Friday, December 6, 2019 / by Daniel Collins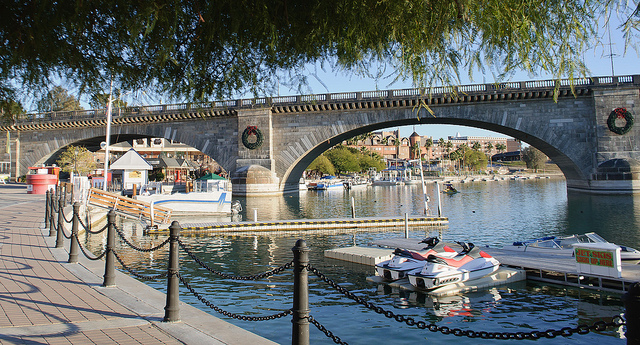 Whether you're looking for a home base for all of your adventures in your retirement, a vacation spot to warm up in the winter months, or to settle down and raise your family, you should consider finding the perfect Lake Havasu real estate! Lake Havasu City is known as
"Arizona's Playground"
, and once you find your dream home with a
beautiful lake view
, there is no doubt that adveture will always be at your doorstep!
Nature and outdoor activities are the heart of Lake Havasu City's culture. There is an adventure to be had around every corner. Mountain biking, hiking, offroading, water sports, and motorsports are all just another "day at the office" of the lucky residents and visitors of Lake Havasu City. Both a beach town and a desert oasis. Always dreamed of owning "ocean-front" property"? In LHC you can do so at a fraction of the cost of states like Florida and California! With pristine, sandy beaches and clear fresh water stretching far and wide with minimal waves, spending an afternoon at one of the lake's lovely beaches is a picturesque family-friendly weekend activity - there are even island homes! Unlike the cold Pacific Ocean, the water temperatures in Lake Havasu are both ideal for cooling down in the Summer, and yet not too cold in Autumn.
If you're an avid golfer, you'll be happy to know that you'll be joining a community of golfers who migrated to Lake Havasu thanks to a climate that allows you to play during what typically would be the off season! If golf isn't your style, and you prefer activities that are a little more "high octane" - not to worry! Minutes from your future Lake Havasu real estate you are sure to stumble across open desert packed with off-roading trails, dunes and canyons to discover.
After a nice day on the trails or "at sea", there are plenty of nice evening activities for the "grown-ups" of the family. No need to deal with the hassles and distractions of Las Vegas, but you can still enjoy the convenience of the slots and card games at Lake Havasu's two casinos.
If you think that the desert has no life, you've certainly never visited Lake Havasu City! Contact Realty ONE Group Mountain Desert today to find the perfect Lake Havasu homes for sale! 928-680-6350


Images used under creative commons license – commercial use (1/28/2016) InSapphoWeTrust (Flickr)